Copyright : Monique Decamps/Illustrations: Rudy Van Giffen
To Shaheed AHMAD SHAH MASSOUD,
Servant of the people of Afghanistan,
Servant of the Afghani Nation,
Lover of poetry,
A different tribute.
BRITISH ENGLISH VERSION
A book of 48 pages with 10 beautiful poems and 10 marvellous black and white illustrations from the late and fabulous painter Rudy Van Giffen
Front and back cover in colour.
Date of publishing: January/March, 2006
Price: 10€
SUBSCRIPTIONS
FOR THE DJANIAT...
THE GARDEN OF GOD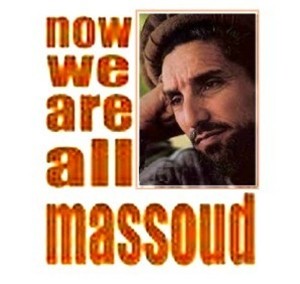 To you dear friends of English-speaking countries...
So it begins and I would like to thank those who have
so great an interest in the English version of my book.
Please, just send your name and full address to:
gardenofgod@massouddjaniat.net.
No money is required so far.
By January or March, 2006 the English book will be put on ebay.fr
paid via paypal, which is the most secure payment.
Please note that paypal will be the only
payment accepted.
The price will be around 10€ for one book.
Shipping and handling will depend on the country
you live in.
THANK YOU VERY MUCH FOR YOUR KINDNESS.
YOU CAN RELY UPON ME.
WARMEST REGARDS.
Monia.
You can already see the French version of my book by
clinking on this link:
http://stores.ebay.fr/realmofdreamsdjaniat
LETTER FROM NICOLE FONTAINE
English translation
Dear Madam,
You have most willingly sent me a copy of your book of poetry in tribute to Commander Massoud, book of which you are the author. As you wrote in your letter, my former position of President of the European Parliament, allowed me to welcome officially Commander Massoud in Strasbourg at the beginning of April 2001.
By this invitation, I wanted to mark the political gratefulness of the International Community to a charismatic hero of the Afghani resistance, the man would put an end to ten years of Soviet invasion and fought with determination against the barbaric rule of the Taliban, fanatics who violated the basic rights and human dignity. Thus, I was deeply touched and stricken with grief at the murder of this man that took place some days before the terrific attacks against the World Trade Center. We could regret that the Western people did not help him more in his fight.
It is with great emotion that I receive your book today and I sincerely thank you for this gift.
I warmly congratulate you for the quality of your poetry and for generosity towards Afghanistan.
Yours very faithfully,
Nicole Fontaine
Letter from Mrs Nicole Fontaine, former President of the European Parliament, the only French personality who welcomed Massoud during his visit to Paris in April 2001
THE DJANIAT...
THE GARDEN OF GOD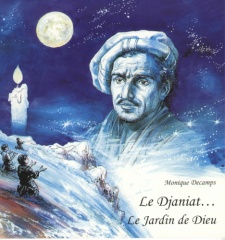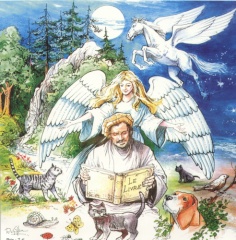 Illustration: Rudy Van GiffenCopyright: Monique Decamps
THE AUTHOR'S PROFIT FROM THIS BOOK OF POETRY
IS DEDICATED TO THE MEMORY
OF AHMAD SHAH MASSOUD
AND THE PEOPLE OF AFGHANISTAN
AND WILL BE GRACIOUSLY OFFERED TO:
ASSOCIATION NOOR
VILLA MONTMORENCY
3 AVENUE DU SQUARE
75016 PARIS
FRANCE
TEL/FAX: 33/0140501422
PLEASE NOTE THAT THE BOOK WILL APPEAR ON EBAY.FR AND PAID VIA PAYPAL, THE MOST SECURE WAY OF PAYMENT.
THANK YOU.
TRIBUTE
TO THE CHILDREN OF AFGHANISTAN AND ANYWHERE ELSE IN THE WORLD, BE THEY BELIEVERS OR NOT!
9 September 2001: A dreadful and infamous attempt perpetrated against Ahmad Shah Massoud, a man of exceptional and deep goodness, cost him his life, thus bringing gloom and revolt to the hearts of the people who knew him but also to all those who - by an unforgivable indifference from the Western media, with the exception of Christophe de Ponfilly and his friends - were not even given this opportunity to know him.
In this entirely fictitious story, written to bring a little comfort to the numerous people still mourning his cruel loss, the role of mystic animals has not been neglected - not only Borâq, the magnificient stallion of the Prophet Mahomet, but also the birds and the ants are participants.
In this little collection of poetry, the reader will find several similarities between the different religions, perhaps one more little step towards tolerance and respect due to others and their differences...
May the family, friends, people and all the admirers of the "Light-bearer", find a little relief throughout this fable in which the black notions of politics, hate, fanaticism, war and unhappiness were intentionally excluded. This in order to give a free access to dream and magic, so fiercely absent in our world, and to show the beauties of the Muslim religion - a faith most hastily and contemptuously disparaged and slandered nowadays.
Best regards and respect to the people of Afghanistan and any other people suffering from racial or religious prejudice.
Monia
You will find here both British and American English, as we chose the first for our personal liking and prefer to leave the second in the tests and poems in which it was placed. So there is no mistake of spelling here: (marvellous, marvelous/honour, honor/travelled, traveled/moulded, molded and so on).